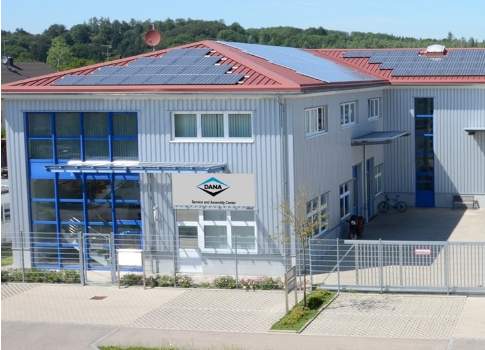 Established in 1997, Dana SAC Germany GmbH as a Territory Hub is currently responsible for sales in Germany, Austria, Switzerland and Eastern Europe.
In Mammendorf near Munich, we assemble and test hydraulic power packs in various sizes and complexities. In addition, we support machine and vehicle manufacturers in the design of their drives and controls and, if required, also assemble, test and supply complete systems consisting of hydraulics, gearboxes and electrics / electronics.
For more information, or to discuss your requirements, please contact us.

Service and Assembly Centres (SACs)
Address: Benzstrasse 7, 82291 Mammendorf, Germany
Address: Gutenhofen 4 A-4300 St. Valentin, Austria
Dana Industrial  benefits from the experience of key brands that are fully integrated into Dana Incorporated.  Each with its own specific expertise and market presence, the brands are able to act synergically, fostering innovation and exploring new opportunities across their reference markets.  Furthermore they can count on the consolidated strength of a company committed to quality, innovation and customer proximity.
Working with

over 90


industrial sectors

Serving a variety of sectors within the Off-Highway market, Dana is in a position to offer solutions for both mobile and stationary equipment. The convergence of two areas within Dana's Off-Highway business unit – Drivetrain Technologies and Motion Technologies – leads to Dana Off-Highway Drive and Motion Technologies. Our systems manage power conveyance to machines, power work functions and drive industrial equipment through safe, integrated and smart solutions.
Servicing your needs locally
Aware of the importance of responding immediately to a customer's demands, our local SAC is best-equipped to provide timely support to customers, ensuring technical assistance, repairs and offering specific market knowledge and engineering expertise.
Our staff are available to accompany customers before, during and after installation of Dana products and components, giving guidance, devising customized solutions and optimizing equipment efficiency through ongoing support and maintenance agreements.
Hydraulic systems "not off the rack" and customized power packs are our core competence.
For non-typical and very complex circuits special solutions are developed by our experienced technicians / engineers, which are tailored exactly to the customer requirements. Customer-specific units of various designs and performance classes are designed and built on the basis of standard products or as special designs using components from our company, as well as those preferred by our customers.
Examples of customized power packs.
Examples of customized power packs
1. Hydraulic unit with redundant oil supply for platform lift systems, rear garages and auxiliary drives on yachts and ships.
2. CMI – power units with oil bathed motor and special flange for garage lifting platforms.
3. Hydraulic power pack FP with double pump (Hi-Low) and special manifold for automatic band saw machines.
4. Special power pack with load-sensing axial piston pump and proportional valves for keyseating machines.
5. Hydraulic unit with reversible pump, frequency-controlled for multi-ram lifts for vehicles.
6. Customized power pack MC with special asynchronous motor, frequency controlled for battery-powered towbarless aircraft tugs.
7. Portable special version of oil bathed motor power unit CMI with quick couplings and electrical control. Part of the complete drive system – slewing drive for assembly / repair and maintenance works on VSP ship drives
8. Fully housed power unit with the hydraulic system in a closed circuit, incl. sensors, control electronics and plant interface. Part of the complete drive system – hydraulic drive for submerged drag chain conveyor of coal-fired power plant.
9. Customized MC power pack with proportional valves technology for automatic loading/unloading systems of Freeze Dryers for the Biotech- and Pharmaceutical Industries.
10. Hydraulik-Bremsaggregat in ATEX und Marine/Offshore-Ausführung für elektrische Windensysteme für explosionsgefährdete Bereiche an den Bohrschiffen und Bohrinsel.