Service and Assembly Centres (SACs) Ireland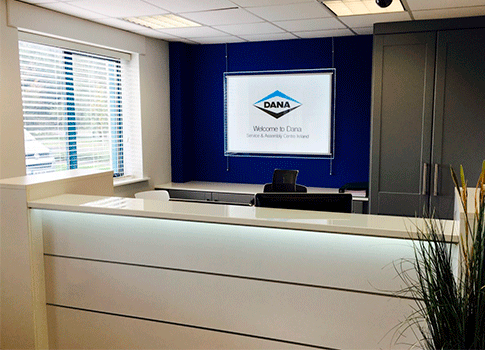 Our Contacts
Address: Allenwood Enterprise Park, Allenwood Naas, Kildare, W91A4CP, Ireland
Dana SAC Ireland is part of Dana Incorporated – a leader in highly engineered solutions that improve the performance and efficiency of powered vehicles, machinery, and stationary industrial equipment.
Total System Solutions
To provide total system solutions Dana has a complete product range, engineering and design capability, along with extensive market and product experience. Dana SAC Ireland is part of a group of Northern European countries in a Northern Territory hub. Together in our hub we design electro-mechanical and /or hydraulic planetary and helical gearbox drive systems. We are committed to working closely with customer design engineers, offering the best drive solution for any given application.
Total OEM Support
At Dana SAC Ireland we understand your needs and support this by working closely with your purchasing and production departments to ensure sufficient units are stocked locally in Ireland, ready for next day delivery or as required. Because holding slow moving stock affects cash flows, for this reason, we are committed to minimizing your stock levels while ensuring you are adequately covered should your production plans change. Dana SAC Ireland understands that it can take several months from commencing to completion of the manufacturing process, so to support you, we provide generous credit terms and conditions.
Total Dana Service and Assembly Centre Support
We go beyond the sale of the product; we ensure our clients receive a full service back-up. Our large local stock holding in Ireland ensures that a large variety of drives are ready for immediate supply. We can also support this, if required with the necessary spare parts. We also examine, refurbish and upgrade products in our dedicated workshop. Knowledgeable technical telephone support is readily available, as are electronic copies of our installation, maintenance & spare parts manuals.
For more information, or to discuss your requirements, please contact us.