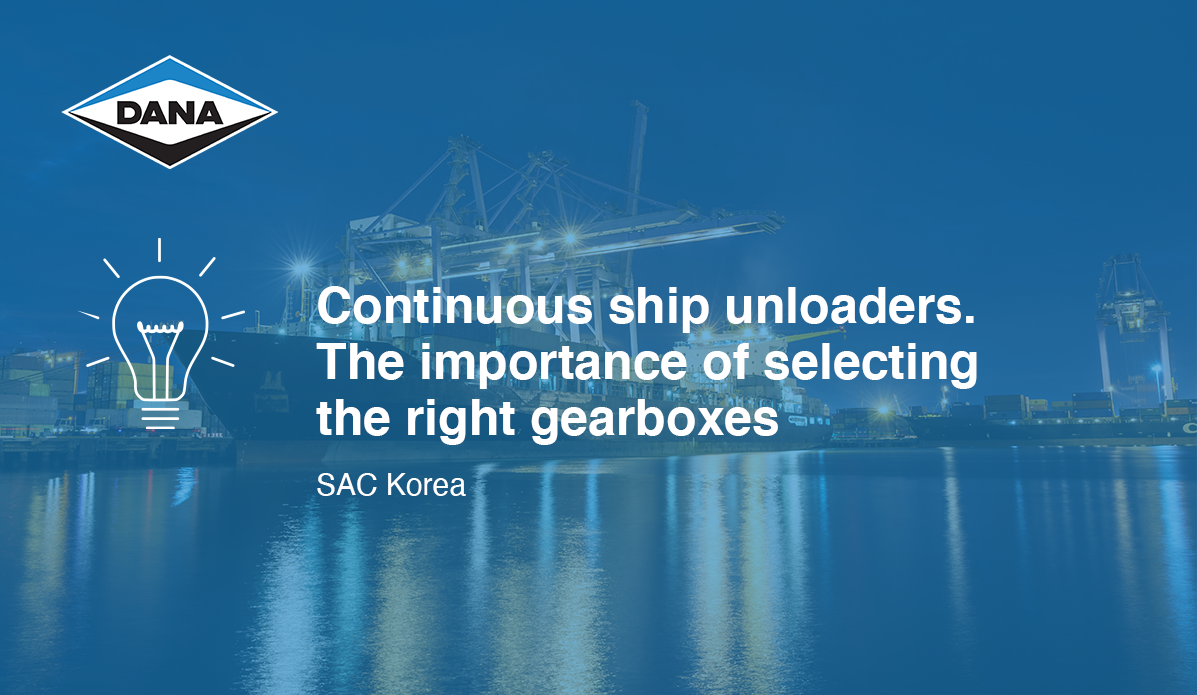 SAC:
SAC Korea
Project :
Continuous Ship Unloader
Name:
CONTINUOUS SHIP UNLOADERS - THE IMPORTANCE OF SELECTING THE RIGHT GEARBOXES
THE IMPORTANCE OF SELECTING THE RIGHT GEARBOXES
Despite a recent downturn in the demand for Continuous Ship Unloaders, our SAC Korea was recently approached for 2 CSUs. Such applications are extremely demanding, especially due to thermal issues for non-stop functions such as bucket elevator drives. What is essential is that the gearboxes stand up to constant thermal stress and are top-quality, highly reliable products.
This enables a reduction in total cost of ownership by limiting the maintenance expenditure and above all minimizes production losses due to downtimes caused by mechanical failures.
Knowing how important it is to select the right solutions was a key step to winning this business. However, the choices involved were not simply off-the-shelf products, as is the case in many projects we handle at Dana Industrial.
There was a need to customize and also deliver unique products that no other supplier manufactures. In the end we provided 16 S-Series and 24 Industrial Planetary Gamma base gearboxes selected to address the issue relating to thermal capacity.
Applications covered by our gearboxes on each CSU included:
Bucket Elevator Drive: 2 x SL35001/FS
Bucket Elevator Slewing Drive: 2 x SC4003/MP
Rotary Feeder Drive: 2 x ED2250/MN
Boom Slewing Drive: 4 x SL12004/FAR
Gantry Travel Drive: 10 x ED2150/FE
Acquiring this business was the work of a synchronized team of professionals, as well as our many references for CSU applications, and our global reputation for quality and customer-centric service.